Pesto, pinenuts, mushrooms and rocket – this posh rocket pesto pizza has got it all! 
Rocket pesto pizza
By Alexander Willow-Harvey (www.invegetableswetrust.com)
Ingredients

For the pesto:
2 cups loosely packed rocket
2 cloves garlic, minced
2 tbsp olive oil
big pinch o' sea salt
freshly ground black pepper
1/4 tsp red chilli flakes
1 tbsp dried basil
1 tsp dried oregano
4 tbsp pine nuts
Pizza base:
2 1/2 cup plain white flour
1x7g packet of fast action dried yeast
1 tsp salt
2 tsp sugar
1 cup of tepid water
3 tbsp olive oil
1 tbsp polenta/ cornmeal
Toppings:
1 1/2 cups sliced chestnut mushrooms/ cremini mushrooms
Method
For the pesto:
Combine everything in a food processor apart from the pine nuts, and pulse until the rocket is finely chopped.
Stir in the pine nuts.
For the base:
Whisk together your flour, salt, sugar and yeast in a mixing bowl.
Make a well in the centre of your dry ingredients and add the water and oil, stir well and knead lightly in the bowl for about 4 minutes, leave to rest for a couple of minutes.
Grease your cookie sheet/ baking sheet and sprinkle the polenta over it.
Stretch the pizza dough out with you hands until you have a big rectangle about an inch smaller than you cookie sheet on all sides.
Spread the rocket pesto mix over the base and pop your oven on to 200c/400f to preheat.
Saute the mushrooms in a little oil until cooked and scatter over the pizza base.
Once the oven is nice and hot chuck your pizza in and bake for about 20 -30 minutes, until golden around the edges.
For all your vegan pantry needs go to TheVeganKind Supermarket or for cookware check out Debenhams.
This article contains affiliate links.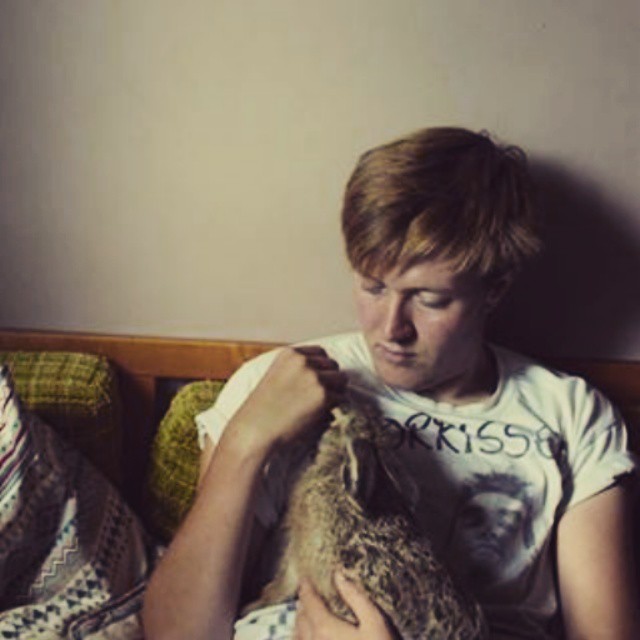 About the author: Alexander lives by the sea in England, and is the son of both a baker and a chef. Growing up, many of his happy memories were food related, but he never really explored cooking by himself until he became vegan. He wants to show people  how to eat tasty, healthy and nutritious food, and how to make vegetables incredibly tasty! For more inspiring vegan recipes, please visit Alexander's website, www.invegetableswetrust.com.