This beetroot pizza crust is thin and crumbly on the edges, and resembles a pie crust in both taste and texture. It goes amazingly well together with the creamy tomato sauce, marinated beetroot and almond feta. The creamy tomato sauce on top of this pizza is no ordinary tomato sauce. It's a blend of cashew cream with tomato purée and some spices, which gives this pizza so much depth of flavour!

Beetroot Pizza with Vegan Almond Feta
By Tiina Strandberg (www.myberryforest.com)
GF SF DF EF V MF
Ingredients
Vegan almond feta
1.5 cups almond meal
2.5 tbsp lemon juice
2 tbsp nutritional yeast
2 tbsp Extra virgin olive oil
½ tsp garlic flakes (or ⅛ tsp garlic powder or 1 small garlic clove)
¼ tsp quality salt (I use pink Himalayan)
½ cup water
Beetroot marinade
2 tbsp tamari sauce
1 tbsp Extra virgin olive oil
1 tbsp lemon juice
½ tsp maple syrup
½ tsp dried thyme
¼ tsp paprika (mild)
¼ tsp garlic flakes or ⅛ tsp garlic powder
Tomato cashew-sauce
½ cup cashew cream (1 cup cashews blended with ~1/3 cup water)
2 tbsp tomato purée
½ tsp maple syrup
½ tsp paprika (mild)
½ tsp garlic flakes (or ⅛ tsp garlic powder)
½ tsp dried thyme
¼ tsp quality salt
Beetroot pizza crust
½ cup white rice flour
½ cup buckwheat flour
2 tbsp potato starch
1 tbsp beetroot powder
4 g active dry yeast
½ tsp salt
½ cup lukewarm water
1 tsp maple syrup
1 tbsp Extra virgin olive oil
2 tbsp coconut oil (room temperature)
Pizza toppings
1 small beetroot, thinly sliced, marinated
~1/3 cup cubed vegan almond feta
⅓ small red onion, thinly sliced
Fresh arugula
Method
Preparations, vegan almond feta:
Blend all ingredients well together until smooth. See all other instructions here(number 3 and onwards).
Preparations, beetroot marinade:
Mix all ingredients well together.
Place thin beetroot slices in a glass jar and pour marinade on top. Put the lid on and shake well until all slices are covered in marinade. Leave to marinate in the fridge overnight or at least 1 hour.
Preparations, tomato cashew sauce:
Soak ~1 cup of cashews in a jar filled with water (and pinch of salt) for 3-4 hours.
After soaking, drain and rinse well. Blend together with ⅓ cup water to form a silky smooth cream. Add more water if needed to get the blender rolling (and for desired creamy consistency).
Pour ½ cup of cashew cream into a bowl and combine well with all tomato sauce ingredients.
Beetroot pizza crust:
Mix dry ingredients (flours, starch, beetroot powder, salt and dry yeast).
Add warm water, maple syrup and Extra virgin olive oil and mix well.
Mix in coconut oil (with hands if needed) to form an easily moldable dough ball (pink!).
Keep the dough ball ~30 min in a bowl (covered with a cloth or plastic wrap).
Preheat oven to 200C/390F.
Knead the dough for a few times and start flattening it (with hands) to form a round pizza shape.
Use a rolling pin to get it evenly spread and thin.
Bake in the oven on a baking sheet lined with parchment paper for ~5 minutes.
Remove from the oven and spread tomato cashew sauce on top.
Toppings:
Remove beetroot slices from the marinade and place on top of the pizza.
Cut almond feta into cubes and place on top of the beetroot.
Add thinly sliced red onions.
Bake in the oven for another 15 minutes.
Enjoy pizza with a colorful salad!
For all your vegan pantry needs go to TheVeganKind Supermarket or for cookware check out Debenhams.
This article contains affiliate links.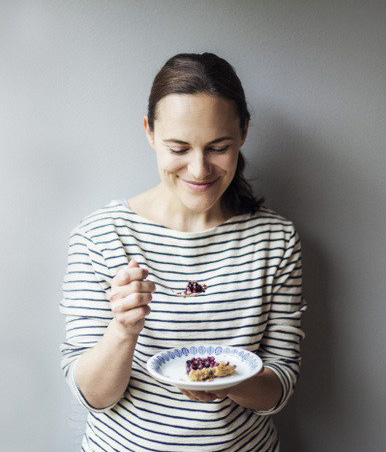 About the author: Tiina is a plant-based recipe creator, mum and photographer from Finland who began with creating fun and healthy meals for her two children. When she's not creating recipes for her blog, cooking, or photographing, she most likely to be found dancing around her house with her kids, adventuring in the forest, reading nutrition and cook books, or dreaming of the next healthy meal and sweet treat to create.