These spicy black bean, kale and brown rice burgers are absolutely perfect for family style weekday eating.
You can make a big batch of them, put them in the freezer, then when you get home from work all you have to do is put them in the oven.
Spicy black bean, kale & brown rice burgers
By Nicky Clinch (www.nickyclinch.com)     
Makes 12-14 | Prep 25 mins | Cook 35 mins | Calories 118 (per burger)
Ingredients
160g (10½oz) black beans, cooked
190g (6¾oz) short grain brown rice, cooked
4 large garlic cloves, peeled, roughly chopped
2 white onions, peeled, roughly chopped
90g (3oz) carrots, peeled, roughly chopped
70g (2¾oz) kale leaves
25g (1oz) coriander leaves
15g (½oz) parsley
2 tsp fine sea salt
½ tsp paprika
½ tsp ground cumin
½ tsp five spice
3 heaped tbsp chickpea flour
olive oil
Method
Once the black beans and rice are cooked, preheat the oven to 180°C/Gas Mark 4.
Add the onions, garlic, carrots, kale leaves, 125g (4½oz)black beans, 140g (5oz) brown rice, coriander and parsley to a food processor. Pulse slowly until everything is mixed and there are no large chunks.
Once there are no longer any large chunks, but it is blended well with some texture, transfer the mixture to a mixing bowl. Add the remaining black beans and brown rice, mix in well, then season with all the spices.
Add the chickpea flour and mix well. The consistency should become thick, not too dry, but not too wet. You should be able to pick it up and it will stick together without being sloppy. If it is too wet, then add another
1 tbsp at a time of chickpea flour
In an oiled baking tray, begin to make your patties. Take a ball of mixture the size of your palm and roll it into a ball. Place the ball directly into the baking tray and pat it down into a patty shape. Continue until you use up all the mixture. You may need to do more than one tray
Make sure you leave some space in between the burgers as you will need to flip them. Drizzle a little olive oil over each burger, then bake in the oven for 20 minutes. Remove from the oven and flip the burgers. Return to the oven for another 15 minutes or until nice and crisp, but not cracking and falling apart. Remove from the oven and allow to cool for 5-10 minutes before serving.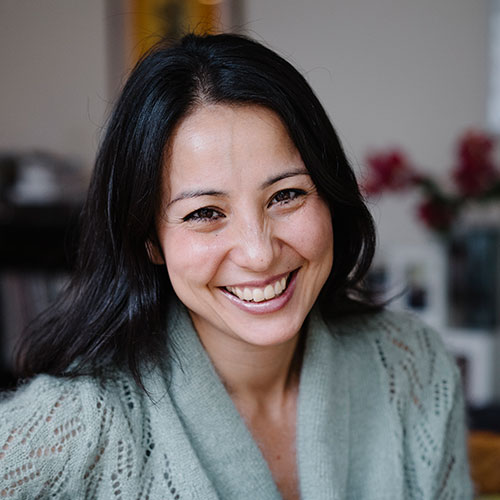 Nicky Clinch is a Macrobiotic Nutritionist and Life Counsellor, Chef and Teacher. Nicky share the creative inspirations from her kitchen, her deep passion for cooking and wholefoods, and teaches how you can heal from the inside out.  Her recipes and writings talk to the integrative holistic way she lives her life today, and how she uses Macrobiotics to create freedom, balance and wholeness throughout her life. www.nickyclinch.com.