Join Ambra Torelli as she embarks on a culinary adventure to learn how to how to prepare a sumptuous raw Pad Thai salad with chef to the stars, Darren Lauder. 
It's not every day that you can learn to prepare a gourmet raw Pad Thai salad from a fine dining Executive Chef who cooked for Madonna, Beyoncé and Elton John.
I was lucky to do so at the stunning resort Anantara Mai Khao in Phuket, where in an outdoor kitchen framed by tropical ponds and beautifully lush vegetation, I had a chance to cook and chat with Chef Darren Lauder, whose extensive knowledge on five star dining comes from a life of experiences in some of the most amazing luxury resorts around the globe.
When I told him I wanted to create something healthy, he made it his mission to make it happen. At the time of our private cooking class, he surprised me with the most gorgeous spread of healthy ingredients: pretty little bowls filled with galangal, sesame seeds, tamarind, celery leaves, ginger and green papaya, carefully arranged to prepare a delicious and gourmet raw Pad Thai salad.
Chef Darren is pretty used to accommodating health junkies and whole foods addicts – just like yours truly – who show up at the resort committed to stick to the "Anantara Balance", their wellness concept which includes a clean eating plan that focuses on natural, organic and unrefined ingredients, served raw or steamed and prepared with less salt, sugar and unhealthy fats, and experiences such as juice cleansing, yoga, Muay Thai, therapeutic treatments, full one or multiple day programs and more.
As soon as I learned about "Balance", I immediately signed up, but still wanted to enjoy an amazing experience like cooking with a world class chef, who luckily turned out to be one of the most open and sharing people I met.
He spent a ton of time chatting with me about food, listening to my eating preferences, and taking notes on my (numerous) dietary restrictions.
My suggestion to 'healthify' a traditional Thai dish was immediately accepted as a fun challenge: "I like it when my customers are foodies and they are willing to take risks. They allow me to broaden my horizons, create new dishes and take my cooking to the next level". Gourmet raw Pad Thai salad it is then!
Raw Pad Thai salad 
Prep time: 20 mins | Cook time: 0 | Serves: 2
Ingredients
For the raw Pad Thai:
100g pumpkin, finely shredded and put in ice water
100g green papaya, finely shredded
15g galangal, grated (replaceable with 10g ginger)
50g purple cabbage, finely shaved
50g micro greens
30g green apple, grated
60g banana flower, thinly cut and put in ice water with a slice of lemon (if you can't find fresh, it can be left out)
10g lemon grass, thinly sliced
40g bean sprouts, cleaned and put in ice water
2 lime leaves (replaceable with lime zest)
80g wild rocket
20g purple shallots
10g celery leaf, washed put in ice water
For the raw Pad Thai dressing:
10g tamarind paste
10g palm sugar
1 Tbsp extra virgin olive oil
80g cashew nuts, soaked for about 1 hour
70g longan fruit (replaceable with fresh mango)
5g garlic, crushed to a paste
1-2 red chilli
5g raw sesame seeds
Method 
Shred pumpkin and green papaya in long strips with a julienne peeler or a spiralizer.
Clean and cut all the other salad ingredients and place them in iced water to allow them to crisp up and bring out the fresh crunchy taste.
Combine all the salad ingredients in a mixing bowl and start preparing the dressing.
To prepare the dressing, combine the cashews in a high speed blender or a grinder with a little water until pureed.
Combine the pureed cashews with all the other dressing ingredients. According to your taste, you can play around on how sweet, sour or spicy you like it. Keep in mind that when you add the dressing to the salad it's going to have a stronger flavour because the raw veggies can absorb more of the dressing.
Season your raw Pad Thai with the dressing and enjoy!!
For all your vegan pantry needs go to TheVeganKind Supermarket or for cookware check out Debenhams.
This article contains affiliate links.
---
About the author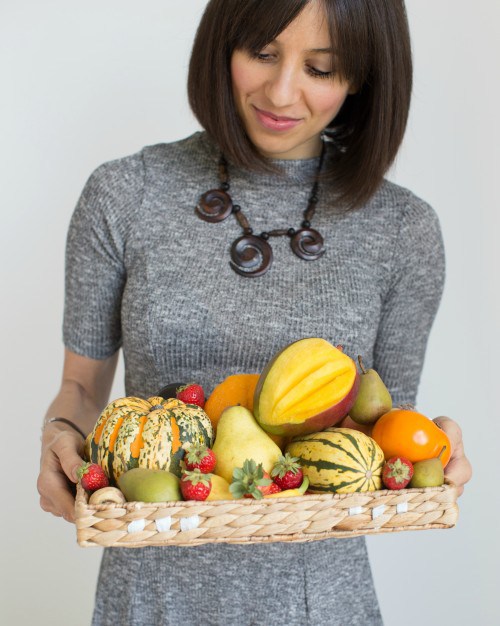 Ambra is an Italian chef who is here to give you the recipe for being a healthier, sexier and more satisfied you… whilst still indulging everyday! Her goal is to show you how you can indulge in the most delicious food while drastically improving you health, getting skinnier and looking gorgeous! You can find more of her delicious recipes on her website, or you can get in touch with her on Facebook, Twitter or Instagram.