Nothing beats the combination of a really rich, flavoursome creamy sauce and a huge serving of pasta! 
Creamy mushroom penne
By Harriet Smith (www.harrietemily.com)
Serves: 2-3 | Prep: 15 mins | Cooking time: 15 mins | Calories: 587
Ingredients
2 cups (180g) penne pasta
1 tbsp vegan spread
1 onion, finely sliced
2 cloves garlic, crushed
4 mushrooms (150g), finely sliced
2 200ml cartons Ecomil Almond Cream
2 tbsp lemon juice
2 tsp dried mixed herbs
1/2 tsp vegetable stock powder
3 tbsp nutritional yeast flakes
1/2 tsp salt
freshly ground black pepper, to taste
pinch chilli powder – amount to taste
pinch paprika – amount to taste
1/2 cup (80g) peas
Method
Firstly, add the vegan butter into a pan and place it onto a medium heat. Then, add in the onion and garlic, and fry for 2 minutes. When this is done, add in the mushrooms and fry for a further 2 minutes.
Next, add in the almond cream, lemon juice, dried mixed herbs, vegetable stock powder, nutritional yeast flakes, salt, pepper, chilli and paprika. Stir everything together, and reduce the heat to a low-medium temperature. Continue to cook for 5 minutes.
When 5 minutes have passed, fill a medium pan with water and bring it to a boil. Then, add in the pasta and cook it for about 8 minutes. During this time, stir the sauce and keep checking the flavour and consistency, to suit you.
When there is about 1 minute left for the pasta to cook, add the peas into the pasta sauce, and stir. Then, when the pasta is ready, remove it from the heat, drain it and add it into the sauce. Lastly, stir everything together for about a minute or so, then remove it from the heat and serve.
For all your vegan pantry needs go to TheVeganKind Supermarket or for cookware check out Debenhams.
This article contains affiliate links.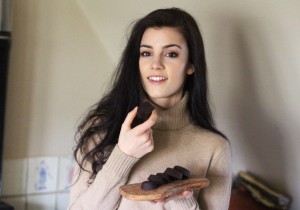 About the author: Harriet has always had a love of food, and has always enjoyed teaching herself new ways of cooking. She decided to focus on creating plant-based food, as it's something she has always been fascinated by, and wanted to eat more of. Harriet love's the creativity behind turning more natural, simpler ingredients into something that can taste complex and delicious. Check out Harriet's blog here, for even more plant-based recipes, and find her on Facebook and Twitter.