Embrace veganism with Vegan Food & Living magazine – the delicious approach to ethical eating!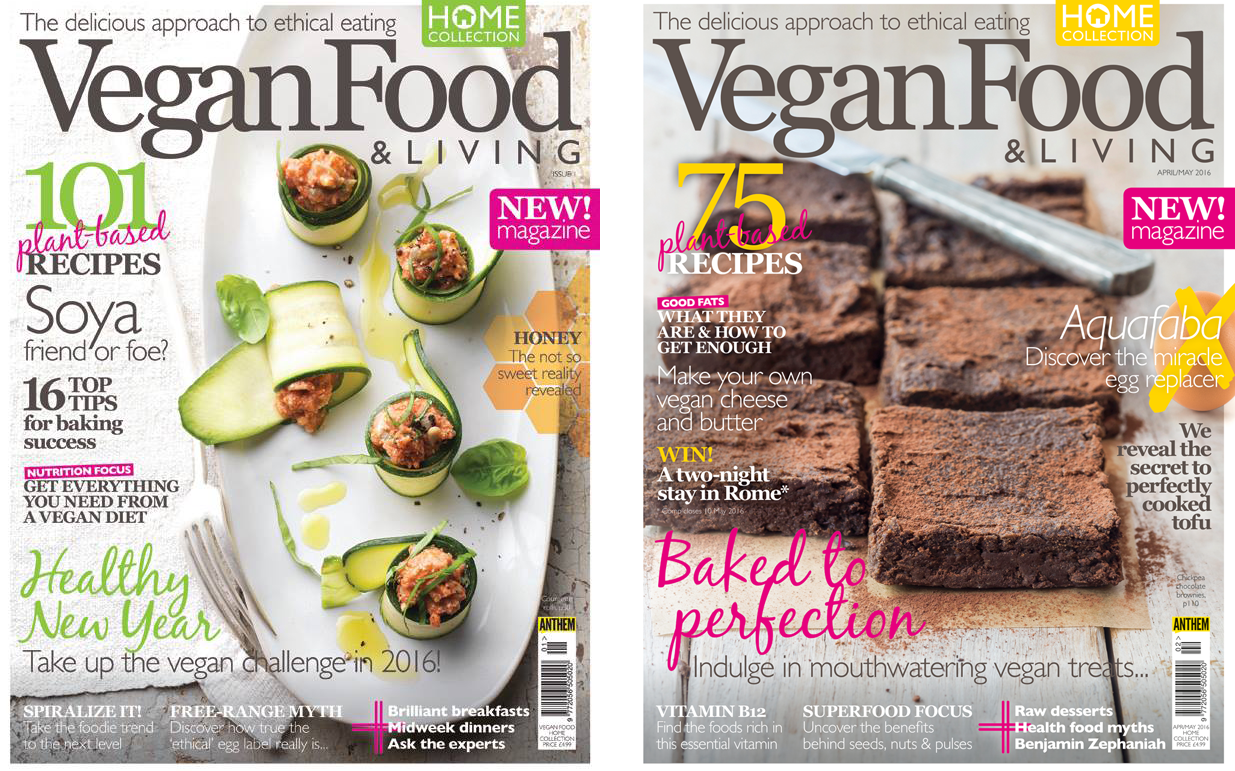 "There is a new vegan magazine, and it is very impressive. I do not remember perusing a vegan magazine from cover to cover — ever. I get bored easily. But this one is different. The contents — from the recipes to the articles to the photography (ah, food porno at its most enticing) — are simply mesmerizing. I may have to cancel my subscription to the other vegan/vegetarian magazines." – In Search Of The Perfect Meal
"Got my copy the other day & it's just great to have a magazine that is totally vegan & in such a great format, page after page of lovely recipes, everything easy to find & I'll def be trying the sourdough mix! A great mag, glad I pre-subscribed, can't wait for the next one! Well done guys n gals!" – Fay Stebbings
"I have to say, you smash it. The photos of food look amazing, can't wait to try out some of those tasty recipes. Great to see an article on athletes too, plant power rocks! I think this subscription is a 'keeper' – nice work!" – Tony Liviabella
"Came across your magazine by chance in a supermarket, I love the whole design of it – the photos are fab (I'm a photographer so it was the first thing I noticed) and the recipes sound wonderful. I dropped out of Veganuary because of the 'intolerance' of some people in the Facebook group, but your magazine has persuaded me to go from vegetarian to vegan (and I've now subscribed)." – Bee Jackson
"I just wanted to let you know how impressed I am with your new Vegan Food & Living magazine. I saw the April/May edition in Sainsburys the other day and liked the look of it so took a chance and bought a copy. And after reading it through at home I felt I should give some well deserved praise to you all. If the subsequent issues are as good as this one then you are onto a real winner cos I feel there is a real gap in the market for a magazine like this. What I like about it is that it is well informed from a nutritional point of view and isn't just a magazine with recipes that are free from animal products but with no thought for nutrition. I'm so excited to try some of the recipes! Best wishes in your new venture!" – Liz Shearer
"I bought this magazine at the airport going on holiday, and spent all week reading it. Loved it!" – Paul Cooper
"Can I begin by saying how impressed I was by your first issue of  "Vegan Food & Living".  The writing is informative and somehow 'kinder' to the reader than other similar publications. The recipes are many and the accompanying photography is eye catching, and reading Vegan Food & Living for the first time I was inspired, by the overall make-up and tone" – Gregor Law

Pick up your copy of Vegan Food & Living from selected Sainsbury's, Waitrose, M&S, Whole Foods, Asda and Tesco supermarkets, as well as WHSmith, Hobbycraft and independent newsagents. Click here to find your nearest stockist, or order online from us here.
Don't forget to join us over on Facebook and Twitter to keep up to date with the latest vegan news, recipes and information…