Find out how our editor Sally got on when she visited Demuths cookery school in Bath to learn how simple it is to create delicious vegan food in a hurry…
How to Create Delicious Vegan Food in a Hurry
As soon as Rachel Demuth uttered the words "Today there will be two lunches", I knew I had picked the right course. I was spending the day in the World Heritage City of Bath at the renowned vegetarian cookery school Demuths, set to expand my vegan cookery repertoire during the one day Vegan Fast and Delicious course.
Demuths Cookery School was set up in 2001 by Rachel Demuth to teach students how to cook innovative vegetarian dishes, like the ones she served at her restaurant in the city. Over the years the school has grown from strength to strength and now has a vast array of classes, including a rapidly increasing number of vegan sessions, and even a week-long vegan diploma.
As Rachel explained to us, the point of the one-day Vegan Fast & Delicious class is to reveal the secret to cooking great tasting vegan food in a short amount of time, and making the most of everyday ingredients. Success lies in knowing how to get the flavour right. The first thing that amazed me was how many dishes we managed to create in just a few hours – and still have plenty of time to enjoy them during our two luxurious lunches!
All courses at Demuths are based around using the best seasonal ingredients, and our treat on the day was getting to use early season wild garlic that Rachel had picked that morning from the Somerset countryside. Because it was the very start of the season, the aroma and flavour was mild, but it added that perfect fresh finishing touch to the celeriac and leek soup we learnt how to whip up in no time.
The second revelation of the day was how quick and easy it is to make bread when you know the right tricks. Rachel's seedy spelt soda bread requires no proving, and no real technical skill, so even the nerviest of bakers can feel confident in giving it a go. It teamed perfectly with the sun-dried tomato and cannellini bean pate we discovered how to make in minutes and both components are guaranteed to become staples for taking to work for lunch.
Fully nourished after our first lunch, it was time to get back to work. And it came as a very pleasant surprise that we had a lesson in knife skills next from the very capable hands of chef Anton. Now, I'm usually very cautious when it comes to using a large chef's knife as I can be slightly clumsy, but with a few top tips and demonstrations from Anton, and a firm instruction on using your knuckles to guide the knife, I was finely chopping herbs and shallots with the best of them!
Our prep session over, these flavoursome ingredients were put to good use in our next set of dishes: roasted beetroot and butternut squash with Puy lentils and pomegranate, roasted sweet potato falafels with tahini dressing and herby quinoa with cashews.
My final revelation of the day came at the 'second lunch'. After consuming most of the delicious dishes we had prepared that day only one awaited us. To be honest with you, it was the one I had been dreading – rice pudding. I've never been a fan, but as a food editor you learn to try everything that is put in front of you, even if you think you might hate it. So as I took my first mouthful of the coconut milk rice pudding, flavoured with rose water, saffron and pistachios, I was in for a massive surprise. Rather than recoil in disgust as I have silently done in the past, I loved it! I finished my bowl with speed and if I hadn't been so full, I may haven even risked an Oliver moment and asked for more. A warning to family and friends – every meal will probably end with this dish now that I have discovered how to cook it in a way that is more than palatable!
I left Demuths with a very full stomach, a little box of leftovers, and an even firmer belief that vegan food can be quick to create and delicious when you spend a little time experimenting with flavours and seasonal ingredients. So if you're stuck in a rut with your cooking, my advice is to get on a train to Bath and discover the delights of Demuths for yourself – you really won't be disappointed.
By Sally FitzGerald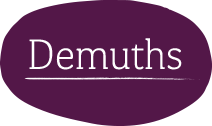 There is an array of vegetarian and vegan cookery courses on offer at Demuths – click here to find out more: demuths.co.uk.